You're here:
Working with Clearstone
Resin bound surfacing: stylish, durable and eco-friendly
As an architect, landscaper or specifier, you need the reassurance of working with an experienced supplier who really understands this specialist material.
Technical Support: Clearstone offers a single point of responsibility from design through to completion of a project, with the technical knowledge and experience to control the whole process. Our team can advise on site preparation, aftercare and maintenance. We provide specifications for the design loading, whether pedestrian, domestic vehicles, car park or access road traffic.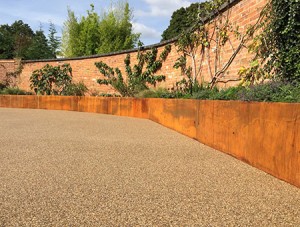 Site survey and CAD plans: However detailed your requirements, Clearstone will work with you to achieve your vision. We have the in-house expertise to conduct full site surveys, produce accurate SketchUp and CAD plans.
Email your drawings and tender specs to Andy our estimator and technical director on andy@clearstonepaving.co.uk for help, feedback and a quote. 
Interpreting your creative ideas: We love to work with imaginative designs. Throw us your ideas, be they logos, curves, letters, numbers or even images, and watch us make it real. From artwork, Clearstone can create stencils and a colour-matched palette for your approval.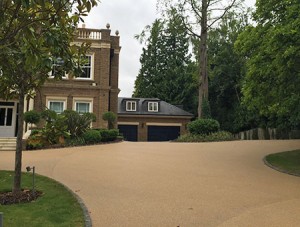 Resin bound: Flexible and versatile with many applications
Public spaces: Parks, public gardens and open spaces all need high-performing surfaces. Resin bound paving fits the bill with its smooth, low maintenance surface. Its free-draining properties prevent ice build-up in winter, giving an important safety advantage.
Housebuilding: Clearstone's fuss-free resin bound surfacing is well suited to new-build projects that require practical and welcoming landscaped approaches.
Landscapes: The flexibility of Clearstone's resin bound surfacing allows you to link garden spaces and blend the boundary between hard landcape, soft landscape and the natural world. Our system fits non-standard sites and shapes.
Renovations: Whether you're updating a property or totally reinventing it, a resin bound surface provides a refreshing and stylish finish. If you'd like your new surface to match existing colours or materials, we can help.
Historic buildings: With the seal of approval from English Heritage and the National Trust, who use resin bound surfacing at historic sites, our system is perfect for complementing an older property undergoing renovation.
Creative design and decorative paving: The resin bound system lends itself to imaginative ideas. Clearstone's Prismstone range can be utilised to brighten up any area with colourful swirls, patterns, motifs, logos and even messages in its surface.
Clearstone's Rock-solid 10 year Guarantee:
We ensure the quality of your resin bound surfaces by handling every part of the process – from manufacture to installation. If anything goes wrong, we put it right. It's that simple.
We guarantee our resin bound surfaces against:
Stone migration
UV degradation
Poor quality workmanship
Cracking
Colour change
Because the base is such an important part of the system, we can't extend our guarantee to installations on pre-existing bases, or projects where the base has been installed by other companies.