Why choose a resin driveway?
Create the ultimate first impression: a great-looking, versatile surface as a welcome to your home
A prestigious new driveway, courtyard or garden path can change the whole look of your property and can add thousands to your house value.
That's especially true if your drive or courtyard takes up a good proportion of the front of your home. Take a look at our gallery to see what is possible and read reviews of resin driveways in our case studies.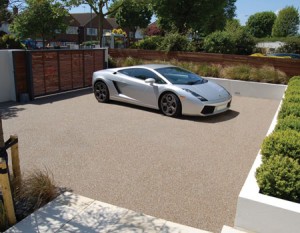 Resin driveways: Innovative and flexible
New builds: Resin bound paving from Clearstone is well suited to new-build projects requiring a smart, modern look.
Renovations: We can lay surfaces which blend perfectly with existing buildings and their surroundings, giving an instant facelift.
Listed Properties: English Heritage and the National Trust have approved resin bound paving systems for use in historic sites.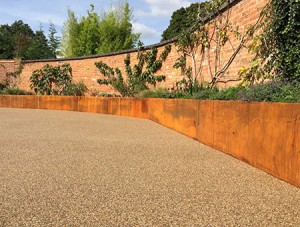 Resin bound: Beautiful, natural stone colours
Our paved surfaces are made from special blends of naturally sourced stones, encapsulated in UV stable resin. The colours won't fade, even in direct sunlight. Find out more about resin bound gravel.
Whether you live in a townhouse, a contemporary new build, a country cottage or a modern bungalow, you'll find the right driveway or path colour for you.
Clearstone has a classic colour range for driveways and a softer lighter designer colour range for the terrace and summerhouse floor.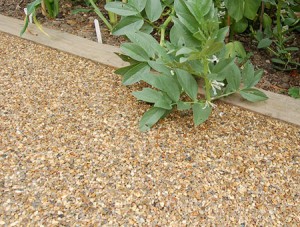 Resin bound: Benefits
Water drains away: Resin bound surfaces are porous, allowing water to naturally soak away. This helps reduces flooding and keeps tree roots supplied with rainwater.
The look of gravel, without the loose stones: Natural gravel looks great – and resin bound gravel ensures you won't get stones in the treads of your shoes or in your car or house.
Drain covers blend in: We can replace old drain covers with inset lid covers filled with the resin bound mixture, so you have a continual uninterrupted surface.
Resin driveways: Easy to maintain
Maintenance is simple: A quick sweep will remove leaves. Moss can be pressure-washed away. You can clean the surface with a power washer without damaging it. Our Aftercare and Maintenance guide advises you about nozzle distance and settings.
Wards off weeds: Unlike block paving, resin bound surfacing doesn't support the growth of weeds. Starved of water, roots can't take hold. You simply brush weeds away.
Resistant to staining: The resin bound surface encapsulates and protects the gravel in a hardwearing resin coating which makes it extremely resistant to most chemicals including petrol, diesel & oil.
Clearstone's Rock-solid guarantee
Clearstone ensure the quality of your resin bound surface by handling every part of the process, from manufacture to installation. If anything goes wrong, we put it right. It's that simple