Resin Bound Kits
Understanding Clearstone Quality
At Clearstone, we know that important decisions about your home and garden are never easy. And with many landscapers, builders and providers hoping to win your business, you need to know the facts to ensure you can decide whether a resin bound kit would be suitable for you.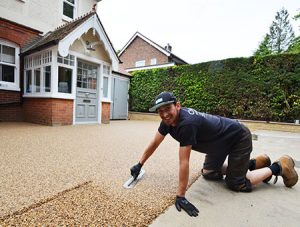 Why are some installers cheaper than Clearstone?
It's true – there are other installers offering resin-based surfaces – some of whom offer cheaper surfaces than Clearstone. Why is this?
Resin bound vs resin bonded
Firstly, not every surface that involves resin is a true resin bound surface, with the permeability and durability of this technology. Resin bonded surfaces are cheaper, but less durable. They are often less attractive than resin bound, and are never permeable, so they offer none of the environmental drainage benefits.
Even when comparing permeable resin bound surfaces, standards of materials and installation vary widely. To understand why, let us explain a little about the process we use to select, mix and install the ingredients needed to create your surface…
Off-the-shelf kits vs. Clearstone's custom mix 
A successful resin bound installation is all about attention to detail. So after we've spoken to you about your design, your preferred colour scheme and the way your surface will be used, we carefully calculate how to turn your dream into reality: with the right aggregate, the perfect resin formula, and the precise proportions we'll use to blend these two vital ingredients. This calculation is so important, we even take into account the expected air temperature on installation day. No detail is too small.
Meanwhile, other installers may be using what's known as 'resin bound kits'. Kits combine the necessary resin and aggregate, and are easily transported in a general builder's van. Kits are a quick, easy way to obtain the materials needed to install a simple resin bound surface. They can be fine for small areas, and they cut down on costs for the installer, but they have significant drawbacks.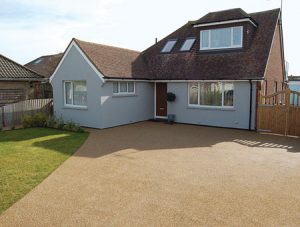 What's the right resin bound option for you?
If you're speaking to other installers about resin bound, ask how they will fine-tune the mix to create your surfaces. Are they using an off-the-shelf kit for a quick installation, or will they calculate a custom mix just for your home? Then speak to us, to help make a comparison.
Clearstone:
Resin bound, every time
Wide range of colours and finishes
Quality that may cost a little more
Efficient installation to minimise disruption
Custom-mixed ingredients every time
Suitable for any size space
Trained and experienced specialist installers
12 years' resin bound experience
Other installers:
May be resin bonded or resin bound
Limited range of colours
May be cheaper
Staff may be untrained in resin installation
May use resin bound kits
May be useful for small areas
May not be resin bound specialists
Landfill waste created from non-recyclable resin kit buckets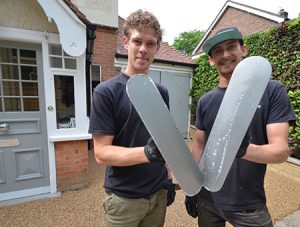 Help about installing resin bound and kits
Clearstone having installed 1000's of metres of resin-bound for over 12 year, we take pride in using our knowledge and expertise to provide you with the most helpful information we can. 
If you're unsure or just have more questions, see our frequently asked questions below about resin bound kits or just contact the Clearstone team and we'd be happy to help however we can.
Can I buy resin bound kits online?
Yes. Several company's sell kits online, just search Google. Kits can be great for a relatively small driveway.
Downside is waste. Each kit comprised two plastic buckets and a plastic bag of aggregate. All of which finish up in landfill. The plastic tubs cannot be reused because they are contaminated with resin. Not good for the environment. Search for a company that does not use kits, but mixes on site from a metal drum. The drums can be recycled.
Are DIY resin bound kits easy to install?
If you have the right equipment and training yes. If not, it can be a real challenge. Resin is tricky to work with, it can harden quickly and if you are unsure about how to trowel a smooth surface ripples can appear spoiling the look of your driveway. An experienced skilful team are an essential requisite for a successful install.
How long does resin bound take to dry?
This depends on the air temperature and how much catalyst (setting agent) is in the resin. Cold temperatures like +5 degrees the resin bound surface could take 12-24 hours to fully harden before you can walk or drive on. Hot temperatures +25 the resin can harden in just two hours, barely enough  time to finish laying the drive. So an inexperienced contractor using kits for the first time can get caught out, a fasting drying driveway can be covered in streaks and ripples.
My resin bound kit didn't work, what do I do?
If you have installed, or had installed for you, a resin bound kit that has failed or has gone wrong then we are here to help. Give us  a call here on 01273 358177 and we will be to happy to help sort it.