You're here:
Art Deco House – Creative resin bound terrace
Telscombe Cliff, East Sussex
The Art Deco house was lovingly restored by keen period enthusiasts.
"Art Deco enthusiasts are delighted with their glamorous new drive and terrace. Their lovingly restored Art Deco home now has movie-star good looks that passers-by can't resist commenting on"Helen Morley and Steve Hill
Stylish terrace area created from contrasting aggregate colours, sharp angles achieved using flexible aluminium edging.
Colours used: Havana and Luna
Art Deco house renovation
It was love at first sight when Helen and Steve spotted Fairlight House on a house hunt. The 1935 property stood out from other homes on the road in Fairlight, East Sussex. "It was the right shape," recalls Helen. "We really love 1930's flat-roofed buildings and Fairlight House covered everything on our wish list – even down to having a fish pond!"
They went to great lengths to restore Fairlight House to its former glory, even unearthing the architectural drawings in Lewes archives and replicating the original exterior paint colours from a tiny paint patch found in the garage. But the clean lines of the exterior were marred by the drive – a hotchpotch of gravel and block paving that sloped away from left to right, not in keeping with the sharp straight lines of the house.
On a visit to Palm Springs, California, Helen and Steve found properties similar in style to Fairlight House and with the ideal ground surface – resin bound gravel paving. It looked so stylish and clean.
An Internet search led the couple to Clearstone and Sales Director Andy Forsey visited to find out Helen and Steve's wishes for their home. "Andy has the patience of a saint," laughs Helen. "He spent time listening to our ideas and incorporating them into a design that would work. The finished result is amazing – it looks even better than we imagined and complements our house perfectly."
The Art Deco design of Fairlight House involves a series of horizontal and vertical parallel lines. Preserving this look was crucial to Helen and Steve but that meant raising levels to get rid of curves and slopes, involving a lot of ground works. Clearstone's Operations Director Spencer Kennard had his work cut out over six days on site to get the levels just right for the 170m2 frontage and garden terrace.
Using contrasting aggregate colours and aluminium edging to produce sharp angles, Clearstone created a bold design in keeping with the style of this period home. The result is so spectacular that Helen and Steve are planning to sign up with a locations agency to use their home as a film set.
The finished surface is practical too: "Water drains away quickly and the surface is very tactile – it feels lovely to walk on in bare feet! It's a fantastic product: even when it's icy it has grip," says Helen.
And Fairlight House's stunning frontage has not gone unnoticed: "Passers-by are so impressed they knock on the door and ask about our drive! Every day I look out of the window and think, 'I am so glad we had it done'. We um'd and ahh'd for two years after Andy visited but then decided we were only going to pave once and do it properly. Clearstone paving has made such a difference – it's fantastic and finishes off the outside beautifully".
Project Milestones
Clearstone working for: Helen Morley and Steve Hill
Project: Art Deco house renovation
Location: Telscombe Cliff, East Sussex
Design Service: Detailed CAD plans for the front drive and back patio.
Edging: Aluminium edging
Area: Installed area 250 m2, laid at a thickness of 18mm.
Installation Date: June 2012
Resin Bound Colour: Havana and Luna (silver grey granite)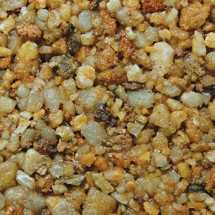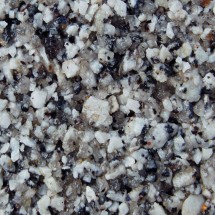 FIND OUT MORE