You're here:
Permeable resin bound walkways for North London development
HAMPSTEAD NORTH LONDON
Clearstone resin bound surfacing refurbishes a network of undulating walkways that link homes and give the residents of a gated development access to Hampstead Heath.
"All the residents are delighted with how lovely the resin bound looks." Mr. Norman, residents' management committeeMr. Norman
Project Brief
Nestled on the edge of Hampstead Heath, this prestigious gated development sits in a Sylvan setting. One of its great features is the network of undulating walkways that link homes and give residents access to Hampstead Heath.
But the original tar and chip paths had become tired and slippery – the gravel worn away to reveal ugly dark tarmac. The homeowners in this twenty-apartment community wanted a lighter coloured surface to complement the beautiful pink-tinged sandstone of their homes and blend perfectly with the landscaped gardens. But they also needed a surface that was hardwearing and long-lasting.
Firstly, the residents' management committee tried a gravel-bonded path, but the rough surface wasn't comfortable to walk on. Loose gravel in a mesh was trialled too, but the gravel tended to get kicked onto the lawns.
Project Solution
Installing pathways is a long-term solution, so the choice had to be right – for all the homeowners. It was therefore crucial that every resident had the opportunity to witness resin bound in action and have input on colour choice. Clearstone installed test patches of 1.5m2 in four different colours and the residents chose Bronze Trio.
To give the perfect finishing touch, Clearstone edged the paths with Kinley aluminium AluXL. "The look is sleek and pristine," says residents' management committee member Mr. Norman. "The paths weren't edged before but now we can mow the lawns right up to the paths."
Despite the wet and cold Winter weather, the Clearstone team worked with minimum disruption to the residents, ensuring access to homes and Hampstead Heath during the installation.
Concierge says: "The Clearstone team was very organised, competent and kept us fully updated on progress throughout the process."
Project Conclusion
In Clearstone, the clients found a company that was prepared to go the extra mile to give them what they wanted.
"Everyone is happy and, with 20 different residences, it's quite an achievement to please all the people involved," says Mr. Norman. "It looks 100 times better than before and the Clearstone people were very professional and helpful."
"When Clearstone take on a job, we have a clear vision of what we envisage it'll look like. I'm just so pleased to have given the homeowners exactly what they wanted," says Clearstone Operations Director Spencer Kennard.
Project Installation Details:
Test areas: four 1.5m2 test areas in different resin bound colours where laid for the residents' management committee to choose from.
Area: installed resin bound area 705 m2, laid at a thickness of 18mm
Edging: Clearstone edged the paths with Kinley Aluminium AluXL
Application: pedestrian walkways
Installation Date: January and February 2019
Clearstone Resin Bound Colour: Bronze Trio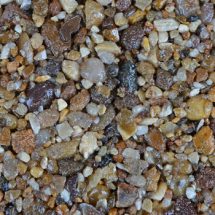 FIND OUT MORE